Higher Education Institutions in Egypt are all fighting to get their message to the same audience and what that truly means is that HEIs with name recognition and deep pockets easily go further ahead while everyone else is left to fight over the scraps. There's an easy solution where your institution can create its competitive advantage and reach its full potential; by using Inbound Marketing. Inbound Marketing will help you increase your enrollment numbers with less effort and a smaller budget.
What is Inbound Marketing?
Inbound marketing, in simple terms, is the method of growing your higher education institution (HEI) by building meaningful, lasting relationships with prospective students, parents or staff. Inbound marketing is a strategy that utilizes many forms of pull marketing such as; content marketing, blogs, event marketing, search engine optimization (SEO), and social media. This creates awareness and builds loyalty towards your HEI.
The inbound methodology is applied in three stages also known as the flywheel model;
Attract: drawing in the right students with valuable content and conversations that establish you as a trusted advisor with whom they want to gain information from.
Engage: presenting insights and solutions that align with their problems and goals so they are more likely to enroll in your HEI.
Delight: providing help and support to empower your students even after enrollment.
At each stage you should use different marketing strategies and tactics to convert students into the next stage. You can learn more about the steps of creating the best marketing strategy and developing student personas in our blogs "Higher Education Marketing Playbook To Stand Out From Competition" , "Your guide to a successful university marketing"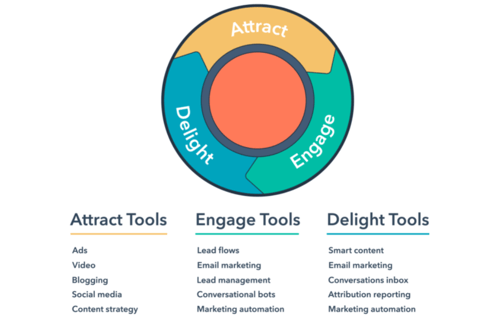 Through each stage you need to use a variation of types of content that best fits where students are. Some of the most popular and beneficial tools are:
Using your website as a blogging platform is one of the most effective ways to attract prospective students. To get found, make sure your blogs answer the kind of questions you know that your persona is asking. You can also get your current students to write blogs for you; to ensure that they are still delighted and become advocates for you.
Search Engine Optimization
Search engines (such as Google and Bing) use bots to crawl pages on the web, going from site to site to collect information about those pages and putting them in an index. Then, algorithms analyze the pages in the index, taking into account ranking factors. This will result in determining the order pages should appear in the search results for any given query. Optimizing your content will make you appear in the first page which will drive traffic to your website or social media accounts.
When executed correctly, it can significantly increase your enrollment and retention, while actively engaging your prospective students, current students and alumni. It helps you personalize students' experiences based on their preferences, data, and interaction with your institution. You should send prospective students emails with relevant content to where they are at the enrollment process and help them at each stage of their journey. As for current students and alumni; you should send them emails with content that will help keep them delighted and in return you will have a high NPS score.
A good social media strategy can help you increase enrollment by connecting with prospective students using relatable voices on different platforms. You should also integrate social media accounts with your institution's CRM software so you can measure its full impact and calculate its ROI.
Pay-per-click advertising
Using digital advertising is a great way to announce offers or promote something specific like a new program your institution is launching. It is a measurable, trackable and effective method for achieving short-term goals.


Why do higher education institutions need Inbound Marketing?

Inbound Marketing allows HEIs to provide timely, relevant content and information to prospective students; meeting them on their preferred channels along every step of the enrollment process. This will not only increase enrollment numbers but it will also help your institution find the best suited students. To get the best results you should use tools for marketing automation such as Hubspot or Marketo, this will help you focus on more important tasks.


Marketing Automation
Institutions can target prospective or current students with automated messages across email, web, social, and text. Messages are sent automatically, according to sets of instructions you create called workflows. Marketing automation programs lets you implement a digital marketing strategy without having to manually press "send" on every email, message, campaign, or post you want to post. Good automation tools help you identify your audience, design the right content, and automatically trigger actions based on time schedules or customer behavior.


All the methods and tools we mentioned will make you more attractive to prospective students as they don't make them feel like they're being pushed to join your institution. The content provided by inbound marketing is educational, entertaining, and welcomed by students. When done correctly, inbound marketing can return dramatically better results than traditional marketing that disrupts prospects rather than giving them an open invitation to engage.

As progressive as the higher education industry is, most institutions are still hesitant when it comes to experimenting with new content, new marketing channels, and new software tools. This can't go on as; HEI's marketing teams used to be held accountable for metrics like impressions and engagement, they're now being held accountable on student applications and enrollment numbers. That's why the shift to inbound marketing is the best thing you can do to achieve your goals in this market.


Scitecs believe in the power of a strong marketing plan in enrollment growth that's why we created STEP -Scitecs technology in Education Program- to help HEI reach their goals by providing adequate practices and tools of the latest marketing and admission technologies.
The first STEP your HEI can take to increase its enrollment numbers is understanding how inbound enrollment, inbound marketing and admission systems can benefit you. Download our eBook now to learn more about Inbound Enrollment.