We are losing Egyptian students to universities abroad, so why aren't we turning the tables? International students are a valuable asset to any Higher Education Institution, yet the lack of awareness and limited access to information prevent potential international candidates from applying.
International students are seeking a global experience and high quality education. So you have to market yourself as a welcoming institution that focuses on a diverse culture. Expanding your recruitment efforts to include international students not only increases your enrollment, but it creates a global culture on campus.
There are already a number of international students getting their degrees in Egypt.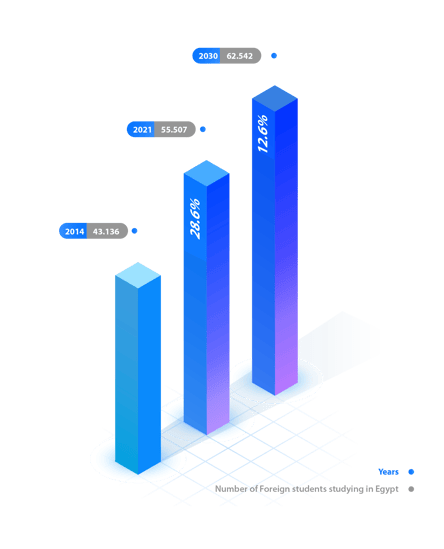 Let me give you an insider tip! According to research the top sending countries are; Malaysia, Indonesia, Thailand, Nigeria, Syria, Turkey and China. You should start targeting prospective students from these countries right away.
Inbound Enrollment
Inbound Enrollment is an approach for Educational Institutions (Universities, Schools and Education management centers) to integrate the marketing and admission processes. As a result, allowing them to meet their goals by building meaningful, lasting relationships with prospective students or parents.
Inbound Enrollment includes strategies that attract the right students, convert them into known contacts, and engage with them at key moments in their journey so that they take that next step to learn more about your institution and ultimately apply.
If you want to learn more about the Inbound Enrollment methodology, I recommend you check out these blogs How to increase Enrollment through Inbound , Inbound Marketing 101: What is it and why do HEIs need it? and Integrated Admission Systems: A University's Competitive Advantage
Inbound Enrollment for International Students
There are various ways for inbound enrollment to help you in attracting more international students. Here are some of the easiest methods you can start with:
Website: Your website has to demonstrate your diverse culture by showcasing international student organizations and clubs, and testimonials from international students.Give international students the option to change the language on your website and application form, which helps in showing the effort you have made to diversify your content for different audiences and communicating with them in a way they are comfortable with. Also you could offer virtual tours of the campus or a day in the life of your students. This will give practical insights for potential students on the student lifestyle in your institution.
Content marketing: Regardless of what type of marketing strategies and tools you use (blogs, social media, emails, or events), your content has to be inclusive of all targeted cultures. It's important to give the right information at the right time. For example; in the awareness stage you can focus on showcasing the programs and student activities while in the consideration stage you can focus on financial aid options and scholarships.
Data: The data you gather through the integration of admission and marketing (Inbound enrollment) will help you in choosing the right message to target each country with. Let's say all of your website visitors from Nigeria check the tuition page then leave the website, that means they are having a problem with the fees. Then you can concentrate all your marketing efforts in Nigeria on showing them financial aid options or highlighting cheaper programs.
Admission system: An admission system makes you conduct interviews and evaluation forms online through the system and run each applicant through a consistent process, to ensure you are attracting and admitting the best students into your university in a timely manner. You can also dedicate a separate international admission web-page that is mobile friendly and includes all relevant information (instructions for visa applications, required documents for admission and country rules for expats).
Now, it's easier than ever to target international students. There's an existing awareness and interest among students for studying abroad and furthering their career or developing their skills. The key to making your institution stand out is showcasing an inviting environment where students can learn and feel included. It's high time for higher education institutions to jump on that race and benefit from globalization. If you follow our tips we guarantee an increase in your international enrollment.
Scitecs believes in the power of a strong marketing plan in enrollment growth that's why we created STEP -Scitecs technology in Education Program- to help HEI reach their goals by providing adequate practices and tools of the latest marketing and admission technologies.
The first STEP your HEI can take to increase its enrollment numbers is understanding how inbound enrollment, inbound marketing, and admission systems can benefit you. Download our eBook now to learn more about Inbound Enrollment.