Like most real estate professionals, now you should start analyzing your real estate digital marketing plan outcomes for last year, and learn from the obstacles and challenges that you faced. What went wrong? This is always the question any marketing professional should have some answers to. From getting new clients, to failure to closing deals, to facing a robust competition within the industry. It's time to start solving the main Real estate digital marketing roadblocks for a stronger digital marketing strategy that will act as your main foundation for the upcoming year.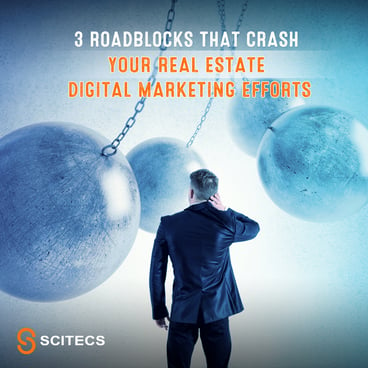 Here's the list of the major challenges the real estate marketing professionals face today and the best practices to overcome them.

1. Not Having a "Pipeline" of prospect clients and leads:
Well, just like any other business, you need a steady stream of prospect customers and leads to keep your Real Estate business going. Acquiring leads or prospect customers is among the first steps in the sales funnel, which is why converting "qualified leads" is critical to any business. The conversion rate should be optimized to get as many closed deals as possible.

The Solution: Create a website!

Yes, your own website! If you don't have one you should probably start constructing a website for your business. Your website is the focal point of all your marketing actions and is your "best salesperson".

Creating and launching an optimized website for your visitors, and analyzing how users interact with the website continuously, is one way to help in solving your Real Estate Marketing problems. Analyzed data will be used to further improve your website design and better optimize it to reach your objectives.

2. Limited Use of Technology and Creativity:


Since the birth of the internet, everything has changed, including consumers' behavior, and the pace of technology is speeding up by the minute.

Consumers now can shop whenever, wherever and however they want. The sky's the limit!

Are you as a real-estate agent or real-estate company still sticking to the old, traditional marketing methods? Are you still following the old mindset our great ancestors established and asking why it's not effective for your real estate industry?

The Solution: Always use the latest technologies: AI, Machine Learning and Chatbots...

Basically, you need to alter your old, traditional mindset fast. For instance, you can use Chatbots to start a conversation with those who showed interest in your services either your website or social media visitors.

Also, you should take advantage of the machine learning advances available today, a computer can analyze the profiles of those who clicked on your ads and automatically show your ad to people with the same interests and behaviors! You can use AI features such as virtual tours, to show and give a tour of the houses that you're selling instead of hiring real estate brokers, which is more creative and definitely less expensive!

Take advantage of the latest technologies in order to achieve better digital marketing results, to compete, and to stand out in the real-estate market.

3. High competition in the market:
There are tons of real estate agencies and companies in Egypt, you are definitely not the only one. And they are going after the same prospects as you are.

You cannot distinguish yourself using the same digital marketing strategy everyone else is using. You need to first change your digital marketing method if you are looking to expand your customer base and grow your business.

If you want to catch those prospect customers that you seek, you have to have what it takes to actually convince them to choose you over your competitors.

The Solution: Build a more meaningful and valuable relationship with your Prospects!

As the saying goes "Out of sight, is out of mind"-If you are not keeping up with your prospects, they will probably forget about you. Don't think that one blog post, a Facebook post or a visit for your website will keep your name stuck in your prospects' mind for long. The moment your name is out of sight, you are already out of their mind.

Stay in contact with them periodically; educate them, nurture your relationship with them to so they would advocate for your expertise and present your services in a personal, creative and engaging way. The more you present your audience with useful and valuable information, the more they'll buy from you.

Be cautious! These best practices and solutions will only go so far as long as you follow up with them, track and continually update them! Continuous evaluation and analysis will help you best optimize your digital marketing efforts. After all, you don't want to end up wasting your digital marketing budget on digital marketing techniques that have no impact on your sales.

To know more about Real Estate Marketing, Download this Free Real Estate Guide.