The higher education sector in Egypt is in constant change, the number of universities 10 years ago is not comparable to the number of universities right now and that's why universities need to go the extra mile in their marketing efforts to meet their enrollment goals.
Besides the obvious reasons of increasing enrollment numbers, Higher education marketing is also essential in getting your message out to the public, increasing brand awareness and building loyalty amongst students, parents, staff, faculty, and alumni. It also helps you in creating the right expectations so you can have a high student retention rate.
Whether your university is using offline marketing methods such as; open house, billboards, and TV advertisements, or using online marketing methods such as; social media marketing, SEO and content marketing, or even a mixture of both, you still need an efficiently detailed marketing plan so you can optimize your resources and get the best results.
Here are the steps you need to develop a successful marketing plan for your university:
SMART goals stand for Specific, Measurable, Achievable, Realistic and Timely goals. By having SMART goals your team will know what to focus their resources on, utilize their efforts on what's important and make it easier to measure your plan's level of success. An example of a SMART goal is: "Increase web traffic by 10% in the next three months"
Your plan should include three types of goals; short-term goals which are set to be achieved in less than a year, intermediate goals that can take from 1 year up to 5 years, and long-term goals that take more than 5 years, in other words, they are the main direction and major strategies of your marketing plan.
Remember that your marketing goals have to be aligned with the university's strategic goals and business plan.


Identify your target audience
You have to know who you are targeting your message to before creating it; are you talking to students or parents? What are their demographics? Where are they located? Which channels do they use? What are the challenges they face? By answering these questions, you can start creating your buyer personas.

A buyer persona is a semi-fictional character of your ideal customer that gives you a clear picture of who you're marketing to and clarifies their needs and wants.
Here's an example of a buyer persona to help you understand how to create yours: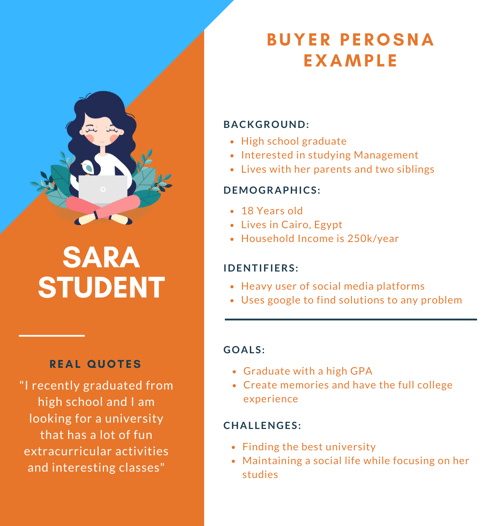 Watch out for the competition
Analyzing your market is a key factor in developing a strong marketing plan. By conducting market research, you will learn which channels other universities are using, how successful they are in meeting their goals, and their strengths and weaknesses.
But be careful not to get overwhelmed by the competitors' data and lose focus of the main purpose which is using the data you collect to recognize your own strengths and weaknesses and the market's opportunities and threats.
Create marketing strategies and campaigns
Your strategies should address your goals, reach your target audience, and create value for your university's brand persona. You should start by taking every goal and planning the path of actions needed to achieve it. Create key performance indicators (KPIs) so you can measure each action's performance over time. As for the channels you should use to deliver your message; choose them based on your buyer personas.
There's a 50% increase in the average amount spent on marketing since 2001, so before asking why you should market your university, you need to ask how much are you willing to pay in marketing.
When creating your marketing budget, make sure you're only spending money on activities that are directly related to your current marketing goals. Advertising and promotion are expensive so pick the options that will give you the best value and highest return on investment (ROI).
To ensure you are on the right track, you have to conduct an evaluation and calculate ROI every specific amount of time that best fits your team; could be every month or every quarter.
Choosing tracking tools can be tricky but you should try to find the best tools fitted to your strategies and stick to them. Working with a lot of tools can disrupt your data and make it harder to analyze them.
For example, if you are conducting an online campaign you can use 'Google Analytics' or 'HubSpot' to generate data about your website visitors such as the pages they viewed, time spent on site, traffic source (email, search engine organic search, search engine paid ads, social media or other) and demographic information. You can also use 'SurveyMonkey' to create surveys and send them to students in your university and get their opinions on your marketing efforts.
The "Tell us how you heard about us" question is always helpful in knowing what are the best channels whether online or offline is potential students learning about you from. You can have it in your admission sheet to ensure that everyone answers it and you get the most accurate results.
That's it! These are the steps you need to create a successful marketing plan for your university. Don't forget that the best marketing plan outlines realistic marketing goals, strategies, and actions based on information and research about your students and your industry. However, the plan is only as good as your team's commitment to implementing it so involve them in the process and empower them to give you the greatest results.
Scitecs believe in the power of a strong marketing plan in enrollment growth that's why we created STEP -Scitecs technology in Education Program- to help HEI reach their goals by providing adequate practices and tools of the latest marketing and admission technologies.
The first STEP your HEI can take to increase its enrollment numbers is understanding how inbound enrollment, inbound marketing and admission systems can benefit you. Download our eBook now to learn more about Inbound Enrollment.