Higher Education
4 Challenges Facing Private Universities in Egypt
Private universities in Egypt face challenges including competition, financial sustainability, quality assurance, and attracting students.
---
Higher education is a complex industry with a wide range of institutions, from the public, private and state, international, and Tech universities. In this competitive environment, it's getting harder every day for private universities, with existing and emerging challenges to attract more students and reach their enrollment targets.
Here's a list of the top 4 challenges facing Private Universities in Egypt
1. Increasing competition
Higher education today is a red ocean market with fierce competition. During the past 6 years, more than 9 universities opened their doors, introducing new fields of studies to Egyptian students.
Today, competition has become a central reality for universities and higher education institutions with more than 72 universities in Egypt, and the number is to reach 125 universities in 2030.
Aligning with the Egyptian government's vision towards enhancing the education sector, high-quality, prestigious universities can be found everywhere. This made it more challenging for universities to stand out from the competition.
Over the past decade, international universities started targeting Egyptian students with marketing messages focusing on affordability and quality. This made the number of Egyptian students who are seeking international degrees nearly tripled, growing from 12,331 in 2010 to 34,823 students in 2019 and the numbers are increasing.
This represents a major challenge for Egyptian private universities since students have the chance to get their degree from higher-ranking universities, have a life-changing experience, and pay almost the same fees that they'd pay when studying in a private university in Egypt.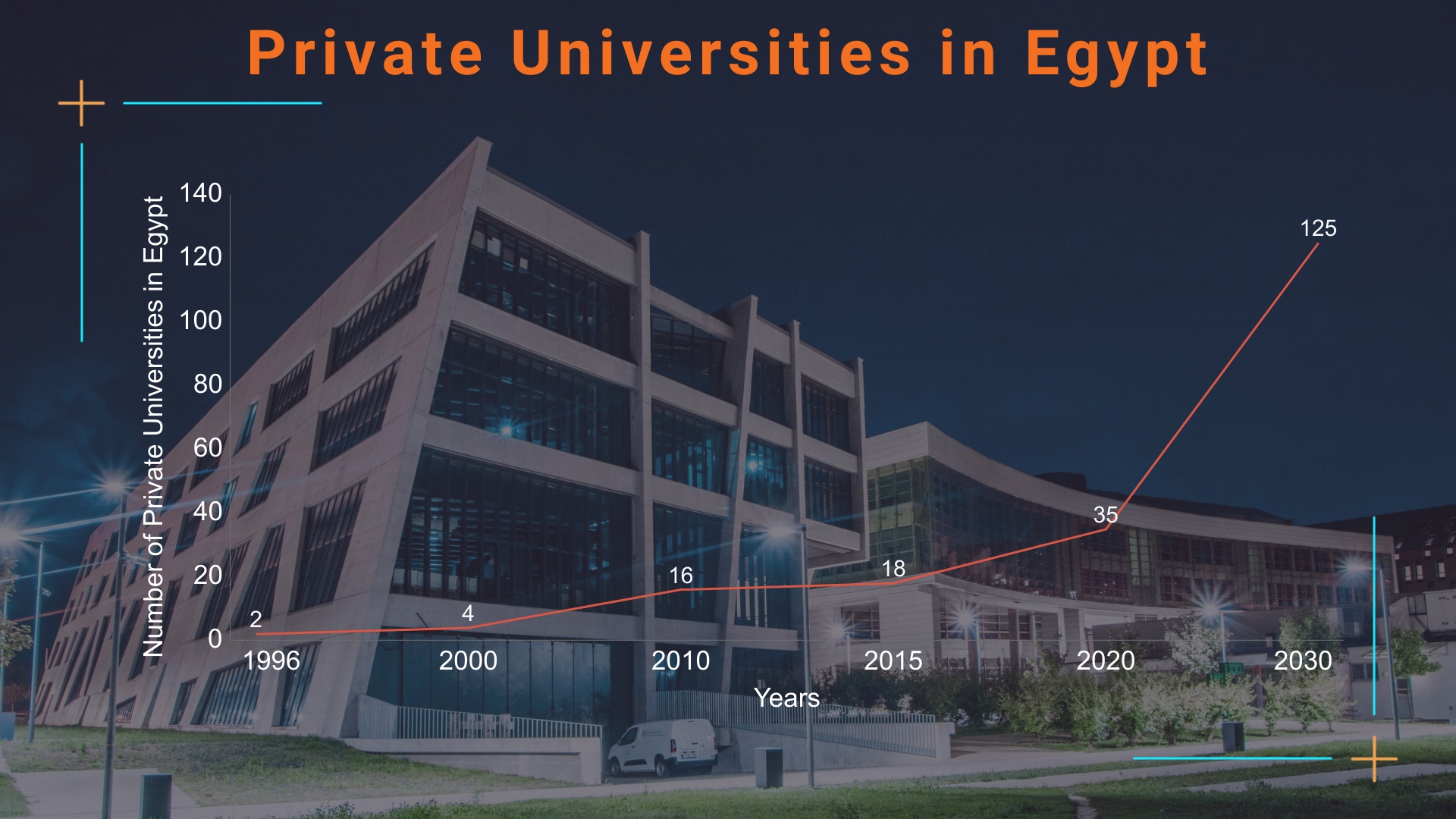 In 2020, when COVID-19 started, all institutions were forced to switch to e-learning. Now an increasing number of universities offer fully online undergraduate degrees. That encouraged international universities to target even more international students including Egyptian students. Now, they can get their degree in a convenient, less expensive way.
Now, for Egyptian private universities to be able to compete, they have to increase their efforts, whether by marketing their university, recruiting elite professors, or focusing on providing the expected college experience to grow their number of prospective students.
2. Current Marketing isn't working
Whether offline or digital marketing, the current marketing techniques aren't very effective.
Billboards and TV ads are traditional marketing channels that have been used for decades but with technological advancement, all these marketing methods became frustrating and inconvenient for the younger generation -Gen Z- who grew up with greater technology fluency than any other generation.
Another problem with traditional marketing is that it's a non-interactive medium, your university doesn't get the chance to start a conversation with its target audience. And with the traditional marketing methods being way more expensive than digital marketing it makes more sense to start shifting to inbound marketing.
For digital marketing, most techniques used are outbound, proactively reaching out to students to get them interested in your institution. Outbound marketing is not a very efficient way for universities to market. It's hard to track the return on investment (ROI); it has trouble producing lead conversions, and it is becoming less effective.
In 2020, Hubspot published a blog "Do Consumers Actually Engage With In-Stream Ads?" where it was found that 37% will skip an instream ad as soon as possible, while 20% will click skip in five seconds or less, and 64% perceive ads in general as annoying and would rather use ad blockers to avoid them.
3. Emerging trends in higher education marketing
If your university is still spending the majority of its money on traditional marketing, you're making an unwise decision. Today, digital marketing strategies, especially for higher education, play a bigger role in student recruitment than ever before.
Writing and distributing the same messages to different audiences is no longer working. Instead, each individual is looking for a message that is specifically tailored for them, addressing their needs and challenges, and providing them with solutions.
In order to do so, universities need to stay up-to-date with all the new marketing trends and use them to effectively reach their audience. These marketing trends include
- Content Marketing:
With the right execution, content marketing helps increase awareness and motivate your audience to consider your program offerings and make a decision to enroll at your university. Content marketing helps your audiences understand what differentiates your university, extends your university's reach, increases traffic, and drives enrollment.
- Virtual open house:
"If we can just get them to campus, we can get them to apply." Unfortunately, in today's environment with tens of Universities, it's getting harder to get people to visit the campus, instead, universities started shifting to virtual open house events.
Now that it's virtual, families can attend the open house whenever they want and with content driven by students and faculty, prospective families and students get an authentic perspective of life on campus.
- Different social media platforms:
Around 70% of prospective students have used social media to research higher education institutions. With this number expected to rise over the next few years, universities should use the power of different social media platforms to create engaging content and interact with prospects and current students.
Moreover, new marketing technologies enabled not only reaching the prospects but also integrating them with other lead nurturing and converting activities.
4. Change in governmental laws for private universities
The Minister of Higher Education and Scientific Research announced that starting from the academic year 2021-2022, new admission laws will be applied when it comes to private universities.
These laws include applying a new admission system that requires private universities to be included in the ministry's matching system, limiting each private university to a specific number of students depending on their ranking and the demand on each university. This represents a challenge for private universities with poor marketing activities since they might not reach their admission targets.
Right now, the higher education sector, especially private universities, is facing major changes and challenges. To be able to adapt and overcome these challenges, universities have to reconsider their marketing strategies.
In Scitecs, we realize how challenging the Higher Education sector became and how hard it is for universities to survive. That's why we created STEP -Scitecs Technology in Education Program- to help HEI reach its goals by providing adequate practices and tools of the latest marketing and admission technologies.
The first STEP your HEI can take to increase its enrollment numbers is understanding how inbound enrollment, inbound marketing, and admission systems can benefit you. Download our eBook now to learn more about Inbound Enrollment.
---