If you are reading this article you have already realized the importance of digital presence for every business in 2020. At the same time, you must be confused how to arrange digital workflow, what tools and channels exactly you need to implement and what's more important who should execute your digital marketing activities.
To guide you in this topic, we compared in-house marketing department and outsourced digital marketing activities.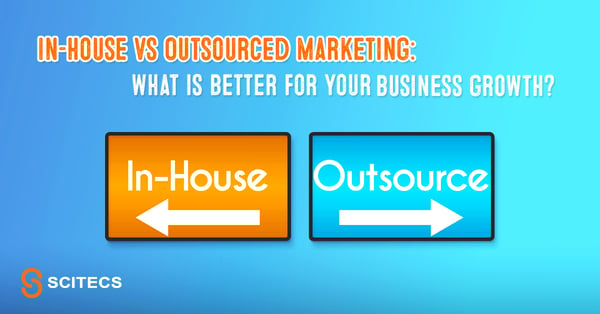 In house marketing team

In-house digital marketing team precisely understands your internal workflow and company's needs. Employees are actually interested in company's development, so they are more reliable than those who consider you as a client. Another positive thing is that you can easily manage their work and influence on them without any obstacle. Besides being clear and transparent, communication with an internal marketing team is also much more dynamic as it doesn't require any external mediators.

In case you want to have in-house digital marketing, you have 3 options: a team, a specialist or a generalist. In case you can't afford a team of specialists, it'd better to narrow a range of tools and channels, focus on them and hire an expert in the required fields. On the other hand, it's possible to find a generalist who will handle several areas of digital marketing.


Disadvantages

If your marketing team used to handle only offline marketing, don't expect from them immediate results as it takes time to acquire solid digital marketing knowledge and learn digital tools.
Sometimes a generalist won't be able to handle some issues and you will still have to outsource some areas. On the other hand, in-house digital team is costly and requires continuous expenses .

Outsourced Digital Marketing

Digital marketing agencies face various projects on a daily basis, sizes and provide great variety of digital marketing services. In most of the agencies, their employees take responsibility for some particular area of work (For example, SEO, PPC, SMM), which enables a high level of proficiency of their employees and consequently the expertise and quality of the provided services. At the same time you can find a freelancer who's rate per working hour is much less than any agency's services may cost.


Disadvantages
Some dishonest agencies may fake reports and exaggerate the KPIs. At the same freelancers whose real qualifications may be much lower than claimed ones, So, you must make sure that they provide valid data.
Unreliable workflow is another weak point. For example, if you plan some marketing activities offline , you should inform outsourced digital marketing agency about them in advance. Thus, outsourced digital marketing agency will be able to reflect your in-house activities, which requires to go extra mile in order to align.

What is The Right Choice For Your Business

In conclusion we must admit, depending on your business approach you can have various combinations of the working models. For example, if you want to cut some expenses you can hire an in-hose commercial manager who will create a business strategy and will start smooth communication between sales team, offline marketing team and set the goals for outsourced marketing agency. If you handle big enterprise you can think about hiring a team of digital marketing professionals with narrow specialization. If you have a small company with unique and limited products, for example, and limited production, maybe it makes sense to distinguish the most important channels for your company and hire the person who specializes in this area.

So, we hope now you know pitfalls of in-house and outsourced digital marketing and can arrange your digital marking activities flawlessly.