To achieve business growth, most of the companies put significant efforts and resources. However, 9 out of 10 businesses don't reach their business goals. Why? Outdated business concepts, such as marketing funnel, is one of the reasons for this.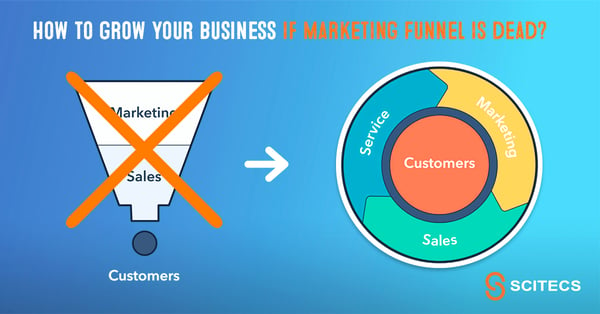 Old is gold?

New customer acquisition can cost five times more than retaining an existing customer which can increase profits from 25 to 95%. Considering the reducing consumers' trust in marketing messages and deep-rooted ideas in the consumers' minds that all brands want is just to grab as much revenue as they can, such 'close to heart' marketing funnel doesn't bring satisfying results anymore.

The traditional funnel is based on a linear customer journey and doesn't include the stage of the buyer journey where you can increase clients' retention and encourage your current clients to spread positive word-of-mouth and make repetitive purchases. Thus, you can develop good products, but you will waste all the sources allocated to new clients' acquisition as once prospects buy, you have to start the process again.

Business Growth 2020

If the marketing funnel is not sufficient anymore, what model should you implement? The customer-centric flywheel is the most effective approach to grow your business faster in 2020. It meets the market demands: your teams arrange workflows so that customers' delight will be in the center of their efforts.

How does marketing Flywheel work?

The Flywheel is divided into 3 segments representing marketing, sales, and customer services. Every segment works in coordination with others and adds value to the overall Flywheel pace. It rotates around an axe that symbolizes a client. Such a structure speeds up companies' growth through the accumulation of efforts all your departments to improve customers' experience.

To enable stable flywheel rotation, any business should take into consideration 3 elements:


1. The weight.
The bigger weight of the Flywheel, the harder to stop it. In this case, exceptional customer experience is the measure for the flywheel weight.

2. The rotation speed.
Here it means that all efforts, tools, and channels you choose (content frequency, number of leads, brand reputation) keep increasing the speed. However, you should focus on the most beneficial ones. Customer experience, which is the base of the Flywheel, is the most impactful area that increases rotation speed.

3. Frictions.
Frictions are obstacles that slow down the flywheel speed along with business growth. You have to detect these obstacles in order to achieve goals.

How to implement Flywheel ?

Well, Flywheel, in theory, sounds great and profitable. What about its practical implementation?
To begin with, implementing Flywheel, is important to use marketing automation tools. For example, HubSpot is a suitable platform for this purpose. It has all the tools that sales, marketing and service teams need during their work. Besides, they are all connected with each other, it is easy to track buyers' journey. However, to make these tools beneficial and reflect the Flywheel Model, you need to align them to the business goals and develop Inbound Plan.