Today, social media channels are more like a hangout spot on the internet, a lot of people are always on these channels having fun. Businesses saw this as an opportunity to interact and engage with prospects and customers and be more relevant and visible to them.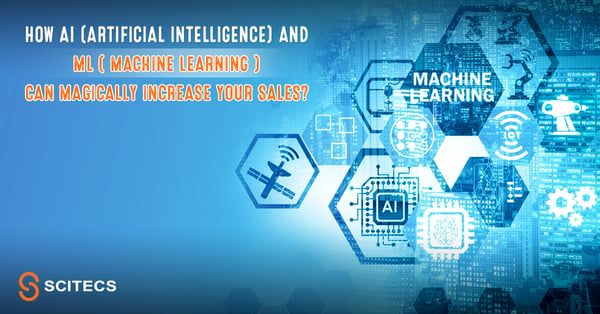 Therefore, Chatbots are a fairly new concept for businesses to interact and engage their customers online. Many businesses generally and real-estate companies specifically, are starting to realize the potential of using Artificial intelligence and machine learning where Chatbots can handle their interaction and representation to prospects and customers and thus, improve their business operations, and increase sales.

But what are Chatbots? Why businesses started using them? How Chatbots can magically increase your real-estate company's sales?
What Are Chatbots?
A chatbot is an artificially intelligent system that customers interact with via text. Chatbots are programs built to automatically engage with received messages. Chatbots can be programmed to respond the same way each time, to respond differently to messages containing certain keywords and even to use machine learning to adapt their responses to fit the situation.

Why businesses start using Chatbots?
Chatbots are proving to be fun, digital toys for the programmers, but they're also a blessing to businesses using them to accomplish human customer service 24/7 , without having to hire staff to work around the clock to cover these tiring shifts and to answer prospects and customer inquiries and at the same time increase sales.

The utilization of Chatbots has certainly gained strength in the last few years.

These are top 10 Chatbot statistics in 2019 proving the value of bots for business:
80% of businesses are expected to have chatbot automation by 2020.
Google search volume for "Chatbots" has increased 19 times in the past five years.
67% of internet users have used a chatbot within the past year.
35% of consumers have already bought items with a Chatbots help.
Businesses currently spend $1.3 trillion on customer service each year.
Chatbots could save businesses up to 30% in customer service spending.
The use of virtual assistants can lead to a 99% improvement in response times.
58% of companies currently using Chatbots are B2B.
71% of companies with Chatbots have between 1 and 50 employees.
Facebook already uses over 300,000 bots on its Messenger platform.
The data shows that businesses need to start leveraging Chatbots to simplify the customer communications, success and increase sales.

How using Chatbots can magically increase your sales?
Now let's talk about how Chatbots help businesses communicate with their target audience, deliver customer assistance, recommend products and drive sales. Here are how Chatbots help businesses:

It makes the customer interaction better
According to a study by Sprout Social almost 89% of messages that require a response are ignored by businesses, with an average wait time of 10 hours for those that do get a reply – even though consumers expect a reply within four. That's where bots come in. They will decrease the wait time to nil time at all, as the messages are automated and triggered by the customers' initial message.

It saves time & money
Organizations save time and money that can then be assigned to other efforts, by automating conversations that would otherwise require an employee to answer.

It generates leads & revenue
Chatbots use direct messages to gather information necessary to provide effective support. For example, asking users why they're visiting your page is one question that is likely to be asked in every engagement with prospects and customers.

Automating this initial interaction allows users to share the information needed for the agent to better serve them without requiring a human to ask for it.

Chatbots guide Users to better outcomes
Customers don't always know where to go to find the information they're interested in. By asking a series of qualifying questions, you can route customers to the best place for the information they need.
What problem are you trying to solve?
What are your goals?
Where are you located?
Would you like personal support?
It provides customer support
Customer support and technical assistance are both a resource consuming part of any business rather real-estate businesses. By creating a chatbot, you can automate repetitive requests, and your customer will appreciate the direct communication that avoids holding on the line and talking to strangers from your support service.

Chatbots are data-driven marketing
Chatbots are able to help out businesses collect data about their customers more efficiently. Chatbots have machine learning capabilities which make them excellent tools for data and information gathering.

As we have elaborated, Chatbots are winning over the hearts and minds of businesses and customers. Chatbots do not require a unique app to function. Instead, they use existing messaging apps, such as Facebook Messenger, Slack, WhatsApp and others, which makes it easier for customers to get information whenever they need it.

Chatbots will definitely continue to improve and evolve, and businesses that use them will have great benefits, especially real-estate businesses also they will increase their sales.