CRM with marketing automation is one of the 2020 trends. Unlike other trends, this one isn't based on assumptions and shows tangible results. However, it may be complicated to understand the differences between marketing automation and CRM. In this article, we are going to review CRMs with marketing automation and the differences between CRM and marketing automation, to be armed and ready for digital marketing transformation in 2020.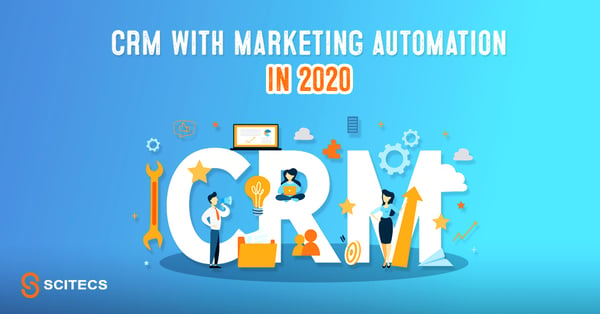 What is CRM?
CRM, or Customer relationship management, is a software designed to store leads and information about leads. It also reflects sales activities that sales teams undertake. More advanced CRMs contain analytical tools to analyze customer data, which helps business managers make better decisions.

What is Marketing Automation
Marketing automation is a set of tools and software aimed at simplification of business processes, allocating marketing efforts, and enhancement of results measurement. Some marketing software contain a storage for the contacts (to keep the leads) or an in-built CRM. Sometimes they cover only some areas of digital marketing, e.g. social media marketing automation tools, email marketing automation tool, SEO tools.

Why it is better to have CRM with Marketing automation?
Even if you have transferred your data from an Excel-file into a CRM, you can't tell your business is already data-driven. CRM without marketing automation doesn't enable sales and marketing teams integration, which means you can't predict the consumer behavior, measure campaign performance and track the journey of your client. On the other hand, Marketing is getting more and more data-driven, you can't compete using outdated tools and rely on assumptions and inaccurate data.

5 Top CRM with Marketing Automation

1 HubSpot
HubSpot is an un-debatable leader in the marketing automation industry. It is not just a simple CRM system. It is an amazing platform that enables tracking you relationships with your clients at every stage and, consequently, in every area of cooperation with the client, in particular, marketing, sales, service. It helps to provide smooth customer experience and understand the most suitable activities for this or that clients.

Price. HubSpot has a free CRM system and some basic marketing automation tools. More advanced options can cost $50.00/month.


2 Salesforce
Who hasn't heard about Salesforce CRM? Yet, most of the people are not aware of Pardot powered by Salesforce. Its main features include tools for lead generation and email marketing.
Basically, is amazing when it comes to lead management. But it isn't suitable to marketing campaign management due to lack of tools for other areas of marketing.

Prices. Pricing starts from $25 per moth, which sounds quite moderate. However, Pardot itself costs $ 1,250 per month!

3.Active Campaign.
It doesn't have as great variety of the marketing automation tools as HubSpot has, especially the most trendy and advanced ones. Yet, it contains such essential tools like email marketing automation, lead management tools, including lead scoring and and email workflow.

Price: It has free trial and packages from $9 to $300. Another tempting offer is free data migration.

4 Zoho CRM
Zoho CRM is a cheaper alternative to Salesforce. It has everything for sales automation, including automating data archives synchronization. Yet, you will have to integrate it with marketing automation tools.

Price: The platform has 15-day free trial, but minimum package starts from $8 an app through Google

5 Zapier integration
Another simple solution for business is to get inexpensive CRM and a bunch of marketing automation tools...is integrate them trough Zapier. Sounds Easy?

At the same time this option has a disadvantage: you will have to spend time to select the best tools, find out suitable settings, integrate each and every tool you use and track everything works properly.

Price: If this option is suitable for you, you will have to carry expenses on a CRM system. And, of course, expanses on Zapier themselves. Integration start from free version (5 Zaps) to the $599 (unlimited zaps), which is more than excessive.

In a nutshell, some digital transformation processes are inevitable in 2020. Thus, the most optimum solution is to make business processes reflect in a CRM system and marketing automation tools. The set of available tools is getting wider and business of any size with any budget can find suitable tools. However, most of the CRMs don't have the most important marketing automation tools and their functionality is limited to email marketing automation. That's why Scitecs implemented HubSpot to arrange all the business workflow needs from marketing to post-sales.